Mekong River Cruise stopover at Thai Lao Friendship Bridge.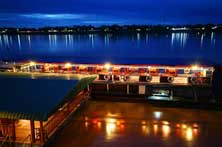 Above, photo of Mekong River cruise boat docked at "Si Chang Mai" with lights of Vientianne Laos on north side of Mekong River. Left are photos of the Mekong River in South Asia showing Laos and Thailand
Book Mekong River Cruise Online @ $300 . Per person
BOOK MEKONG RIVER CRUISE via links above
Contact Phone Numbers Mekong River Cruise

โทรศัพท์พูดภาษาไทย
Phone Thai speaking Chomsin in Nong Khai Thailand +66 836777916

SMS or Phone English speaking Sureeporn Sribuathet +66 956695081
Email: Ew @ mekongrivercruise.asia
Passports are ESENTIAL for Mekong River Cruise Package tours.
Mekong River Cruise Cancelation Policy Refunds:
Less than one week = $0. 1 to 2 weeks 50%. > 2 weeks 75%

Mekong River Cruise Links:
Accommodation near the Mekong River at Nong Khai
Mekong River Cruise Recommendations: Bring camera for video / photos of the Mekong River Cruise. Bring a bottle of drinking water, sunglasses and hat.
For GROUP Mekong tour packages please contact Suree for transfer payment online to her bank account.
Best Mekong River cruise and tour of North East Thailand / Laos I've been on. French food in Vientiane and spicy Thai food a Si Chiang Mai on the oposite bank of the Mekong is deliscious. Laotian and Thai Isan culture including spectacurlar Budhist temples on mountains overlooking the Mekong river are views you'll want to take photos of. The Isan people on both sides of the Mekong river always have a smile. One of the world's best holidays.